17 June 06
Because the hotel provides FREE internet access for ALL ROOMS and my humans brought their own laptop, they were able to do some research work while in HK ^_^. Found this greatly recommended place by the locals called
澳洲牛奶公司
(
Australia Dairy Co.
) (wonder why 'Australia'; they also from Australia like me??? hmm...)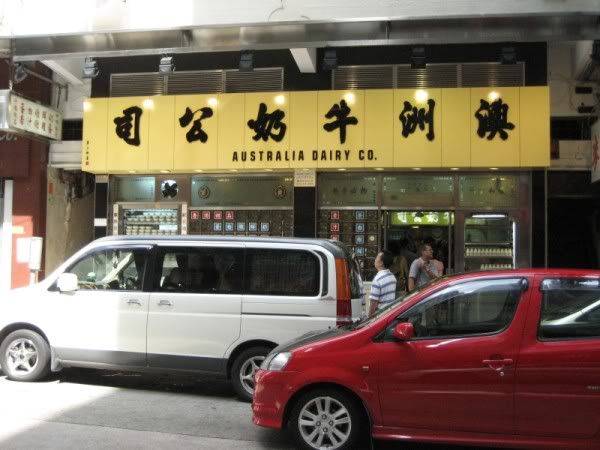 From the hyperlink, you will be able to view some photos of the food. Mommy did not take any because the place was even more noisy (waiters shouting orders, all male hor) and 'chaotic' (bcos the pace is fast, and I mean FAST!!) than the usual Cha Chan Ting. The place is like the fast food type of Cha Chan Ting. It takes
less than a minute
for your food to be served after the waiter left with your orders. Unless you go in group of 4 to occupy a table on your own, sharing table is unavoidable. That was why with that environment and sharing table and all, Mommy felt paiseh to take pics of the food. Kinda stressful eating like that but with all the raves, it was a must-try!! Verdict? Ok lah, not bad. Can go once for the experience.
The breakfast sets costs HK$20 (comes with a plate of
火腿通粉
ham macaroni, 2pc triangular toast with scrambled eggs
炒蛋多士
, and choice of coffee or tea) and HK$24 (can't rem what choices :P ). Have to add HK$2 if asking for cold drinks.
The breakfast was rather filling. Till lunchtime, my gluttony mommy and daddy didn't feel hungry. But as the weather was rather hot and mommy wanted to have dessert at
許留山
Xu Liu Shan, they cheong-ed to one when they spotted an outlet at Tsim Shar Tsui. Mommy had
楊枝金撈
Yang2 Zhi1 Jin1 Lao1 (mango and pomelo with sago) HK$25: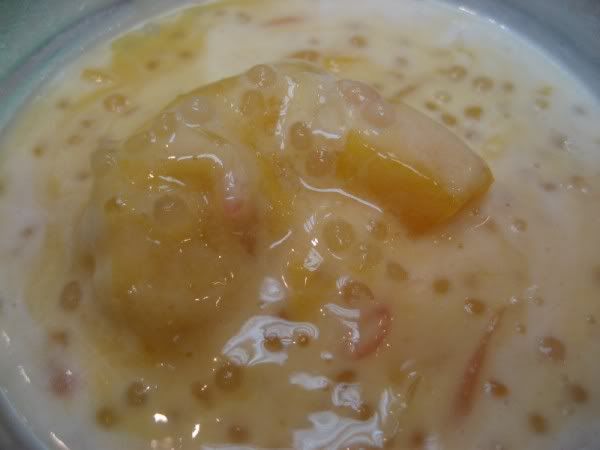 ...while daddy had
多芒鴛鴦黑糯米
mango with black glutinous rice in mango & coconut juices HK$25: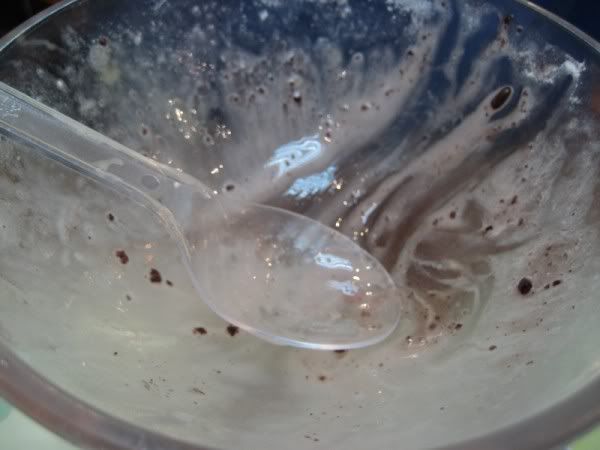 Aiyo..!! Daddy ate soooo fast! By the time mommy remembered to take picture of the yummy desserts, daddy's bowl empty liao hahaha.... when mommy was putting away the camera, he even stole some spoonfuls from her bowl!
Before long, it was time for dinner! Wow! The humans sure lucky while I rotted in Singapore -- ; They went to Cafe de Coral (
大家樂
) near to the hotel. Mommy had Dory Fillet with Mushroom & Cheese in Tomato Sauce HK$31: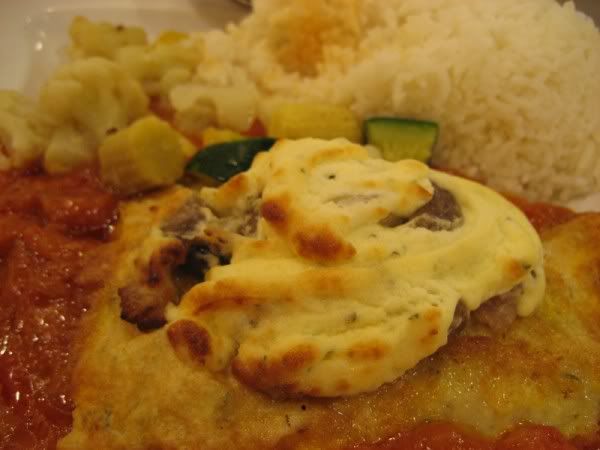 the cheese (and everything else) was delicious! Not bad at all!
It came with a soup of the day: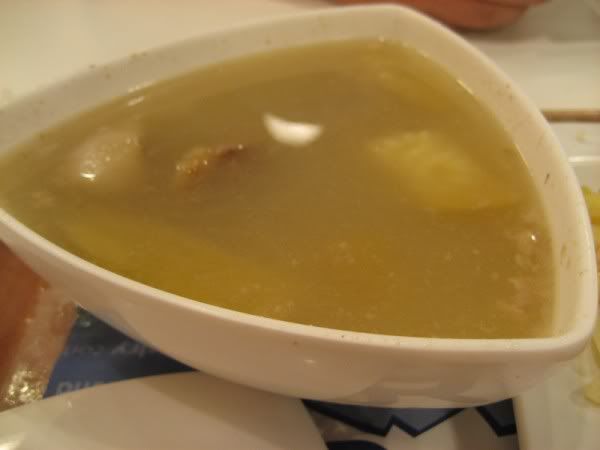 ... and daddy had
叉燒雙拼
Char Siew Mix Rice HK$25: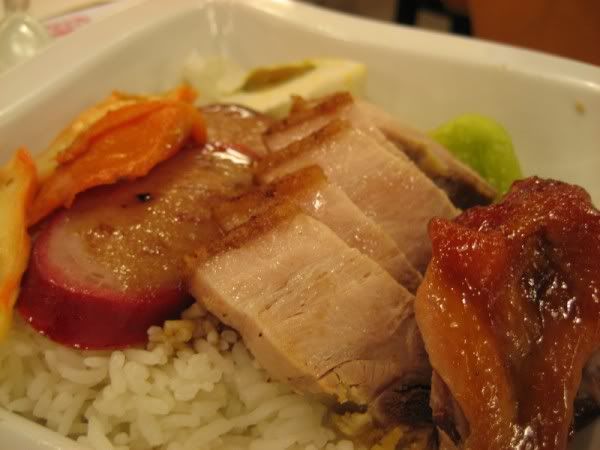 What a sumptuous yet cheap dinner!! ^_^